ID Badge Accessories from eXpress badging®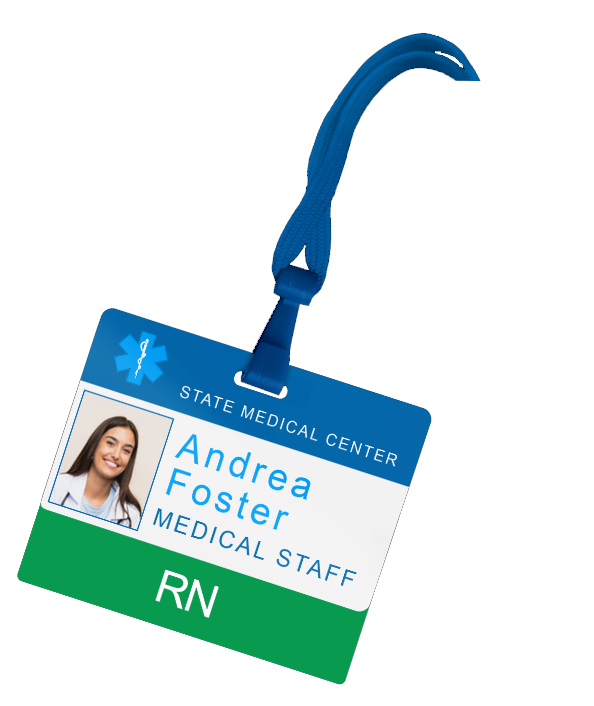 At eXpress badging, we promise high-quality services and products. We understand the need to easily and securely wear a photo ID badge so it can be relied on as an identification resources while on-premise. There are many options to consider to wear an ID badge, and why eXpress badging has a short list of options to meet the needs of our customers.
The simple, clear vinyl strap clip will display a badge in the most cost effective way. Our shoelace style breakaway badge lanyard with a wide plastic hook and has an anti-swivel feature, is our most popular holder allowing for the presentation of technology cards much easier. For the most efficient, place our carabiner badge reel on the shoelace badge lanyard, making badge presentation to a card reader a snap! If your photo ID program is designed correctly, there is no need for clear plastic holders at all. However, they have become a resource for many, so eXpress badging also carries a complete line to include anti-transfer upgrades, so the badge image does not stick to the badge pouch after being baked in the sun.
BADGE TIP: Never order metal swivel hook lanyard attachments, as the are designed for a metal key and will quickly break through the slotted area of your photo ID card or badge holder. Instead, order a wide plastic hook that guarantees the ID card does not flip around backward, becoming useless as a identification resource.
eXpress badging ID badge and photo ID card Lanyards:
Are you looking to buy ID badges for your company or office, and you want to learn more about what eXpress badging has to offer? Find out more information on the exact industries eXpress badging services and what specific badging requirements we fulfill:
Badge Holders
Badge Hole Punch
Badge Buddy
Badge Lanyards
Badge Reels
ID Badge Clips
Magnetic Badge Attachments
Create a badging system that you can trust.
The team at eXpress badging wants to help guide you with your next order of custom ID badge holders!
Contact us today, and a member of the eXpress badging service team will be happy to answer your organization's specific questions and help you order your custom ID badge holders.