ID Badge Design Guidelines
Our eXpress badging® ID badge design process is simple and efficient. Below are the parameters for each step.
Specifications and Guide
ID Badge Print Technology:
eXpress badging® uses the same badge printer technology you would use if you invested in printing your own badges. The technology used is called dye-sublimation and differs greatly from standard printing processes. If you are designing ID badges for your organization, you should be aware of the do's and don'ts and should factor into your ID design. eXpress badging will put all the pieces of your design together, and below are our ID badge design guidelines for our process.
Slight imperfections due to the dye-sublimation printing process are acceptable. Dye-sublimation PVC card printing and lamination cannot produce blemish-free badge prints and lamination 100% of the time. A degree of imperfection is acceptable regarding quality control imperfections that do not affect the appearance from a distance.
Acceptable Printing and Lamination Imperfections Include:
Fine debris and lint particles trapped under the print film and laminate that are not in the photo, text, or logos.
The white shade of the PVC card stock can vary over time and by technology type.
Slight color variations due to a change in printing technology required to manage badge printing over extended years that are not obvious from a distance.
Printed names that extend to the very edge of the card but not truncated.
Using eXpress badging "Standard" badge format or non-laminated badges, image fading caused by extended sun exposure will occur within short periods (can be weeks or months) and are not warranted from fading, cracking, or breaking. Barcodes that are not warrantied will wear off much quicker (can be weeks or months) using the "Standard" format badge.
Not Acceptable Printing and Lamination Imperfections Include (cause for reprint):
Printing imperfections, embedded particles, debris, or lint within printed areas that are obvious from a distance
Lamination debris or air bubbles between lamination (if applicable) that are obvious from a distance.
Printed names that extend beyond the edge of the card or truncated*

*Any truncation caused by exceeding max field length when auto reduces font size is requested to be disabled/turned off is deemed acceptable by eXpress badging.

When an eXpress badging DURAbadge™ formatted laminated badge image fades, cracks, or breaks within 24 months of the ship date. See the DURAbadge™ warranty below.
Colors shown on a computer screen or printed from your printer may not be an accurate representation of the final printed color. The color of the final product may vary from RGB, CMYK, or PMS numbers provided because of the heat that may be used to produce the final ID card/badge and variations in industry standards using PVC dye-sublimation printing processes. Refer to our Color Matching section below for additional information. A plus/minus graphic/text movement tolerance of .063" is acceptable during printing/production.
We create merge templates from your source artwork and badge data elements. Then you just provide enter/import some data and upload/capture photos that are merged with the design during the print process. Those that have spent the extra time to create individual badges complete with photo names and design that are ready to print; please review our FILE to PRINT option below, an is not a recommended practice.
ID Card Material:
eXpress badging prints on PVC card stock material for photo ID badges. The white opacity of cardstock will vary between "standard" 100% PVC and "composite" 60% PVC and 40% polyester blended cards. Over periods of extended time, the white contrast of PVC cards cannot be guaranteed due to variation in the card manufacturing processes and material used.
We do have other material options for special projects and oversize cards that are considered custom.
Technology Cards: RFID, Magnetic Stripes and Barcodes
Lamination for added durability and fade protection
Adhesive Stock
Tri-modal Security Seals
UV Inks
Foil Stamping
Artwork Specifications
To begin creating your badge design, we request existing artwork for your logo, service marks, photo images, trademarks, and company colors. etc. We require the static graphics file (transparent.png) for import into our system's badge template. You can supply additional sample files with text and photo illustrations, but the final graphic/s must not include variable text and/or photos unless it is a layered PSD Microsoft Windows file format. Source artwork is preferred. Reach out to your marketing department for starters as they should have everything needed to correctly reproduce your brand imagery. eXpress badging can assist in cleaning up (making it look better) artwork for a fee.
The ideal file type is a transparent PNG image.

Other files we accept are JPG, PSD, PDF, TIFF, and BMP.

The best resolution for graphics is 600 dots-per-inch (DPI) saved in a RGB format
Submit PSD or PDF layered files if you are submitting the entire badge design.
Graphic dimensions should be the exact size to be printed

The standard badge size is 3.375" x 2.125" (3-3/8" x 2-1/8")
Providing Artwork Files
eXpress badging™ has several methods for delivering artwork:
Use our ID Badge File Upload Center

We can set up a secure ShareFile Account for those with artwork files over 10MEG.

Our team can pull artwork off of your FTP server.
Color Matching:
Regarding your company's colors — we will try to get as close as technically possible; however, we cannot match the exact Pantone Matching System (PMS) numbers. Colors will vary depending on the various printers used to print; so there will be color variations over the years as printer technology changes and when printers are upgraded. Teal and Burgundy are two colors that are very difficult to get close to and may require additional costs to match closely.
Organizations that demand color matching to a close tolerance throughout the ID badge production life cycle, require the pre-order of custom printed stock and have a 20 business day lead time and additional costs are required.
Full Bleeds and Color Backgrounds:
Direct-to-Card PVC badge printers do not print over the card edges, which are the standard printers used if you were to print in-house. A very thin white line border may appear on some edges that "bleed" over. We suggest placing a .05″ margin border around images that print to the edge for best results. eXpress badging has a small fleet of direct-to-card printers so we can match rebadging projects with badges printed onsite by our customers.
eXpress badging primarily uses a line of High Definition printers (600DPI) for projects that require edge-to-edge printing and higher resolution graphics. In this case, your badge design files must account for the bleed .125″ on each "bleed" side.
Multiple Designs and Color Coding:
If you have more than one badge design or using color coding, you'll need to provide a cross-reference stating what data field(s) is being used (badge type, department,…) to select the design or color that is assigned to each for example: in the "badge type" field employee=blue, contractor=yellow, temporary=red…).
Fonts:
We use standard Arial as our default font and suggest that you do as well. We provide a limited selection of other fonts you can choose from but suggest sticking with Arial.
If you require a specific font please provide the font name, font files, licensing agreement, and formatting information. Additional costs will be charged if font licensing is required by eXpress badging for the font requested.
Font Attributes:
As a rule, all merge field fonts (first, last, title, department…) are set to auto-reduce allowing a very long name to print without truncation. If you require static font sizes regardless of the character length, you'll have to know your maximum character length before truncation, then publish your badge data accordingly. Your badges will be printed "as is"; truncated or not, and reprinted at your cost if required.
Photos and Badge Orientation
The standard industry size for a photo is 1″ x 1.25″. While you can select other dimensions, this decision can affect previously captured images and how they render. At eXpress badging, we suggest using rectangle-oriented headshots cropped to show the entire employee's face with little backdrop visible. We also recommend using color bars and thick borders for effective, easily identified color codes.
Backside Printing:
As a default, badges are printed in black only on the back. No grayscale options, as they will appear pixelated. Provide your backside text information in an MS Word or text file. We can print in color on the back, but make sure you have upgraded your project to include color back printing as it does increase the cost. If you do not have anything printed on the back of your badge, you should ask your team this one question: "The back of our badge is like a billboard on a busy highway, and it will get looked at many times delivering no message; so what message would make this valuable real-estate to our organization?" If you end up with nothing, then blank it is.
Slot Punch:
Most badges are slot punched for use with a badge holder (clip, lanyard, or reel). Ensure you are designing the badge to account for the slot location. The standard offset is .25′ to the bottom of the slot, centered on the top edge. Standard slot width is .55′ to .625″. Standard slot height is .15″.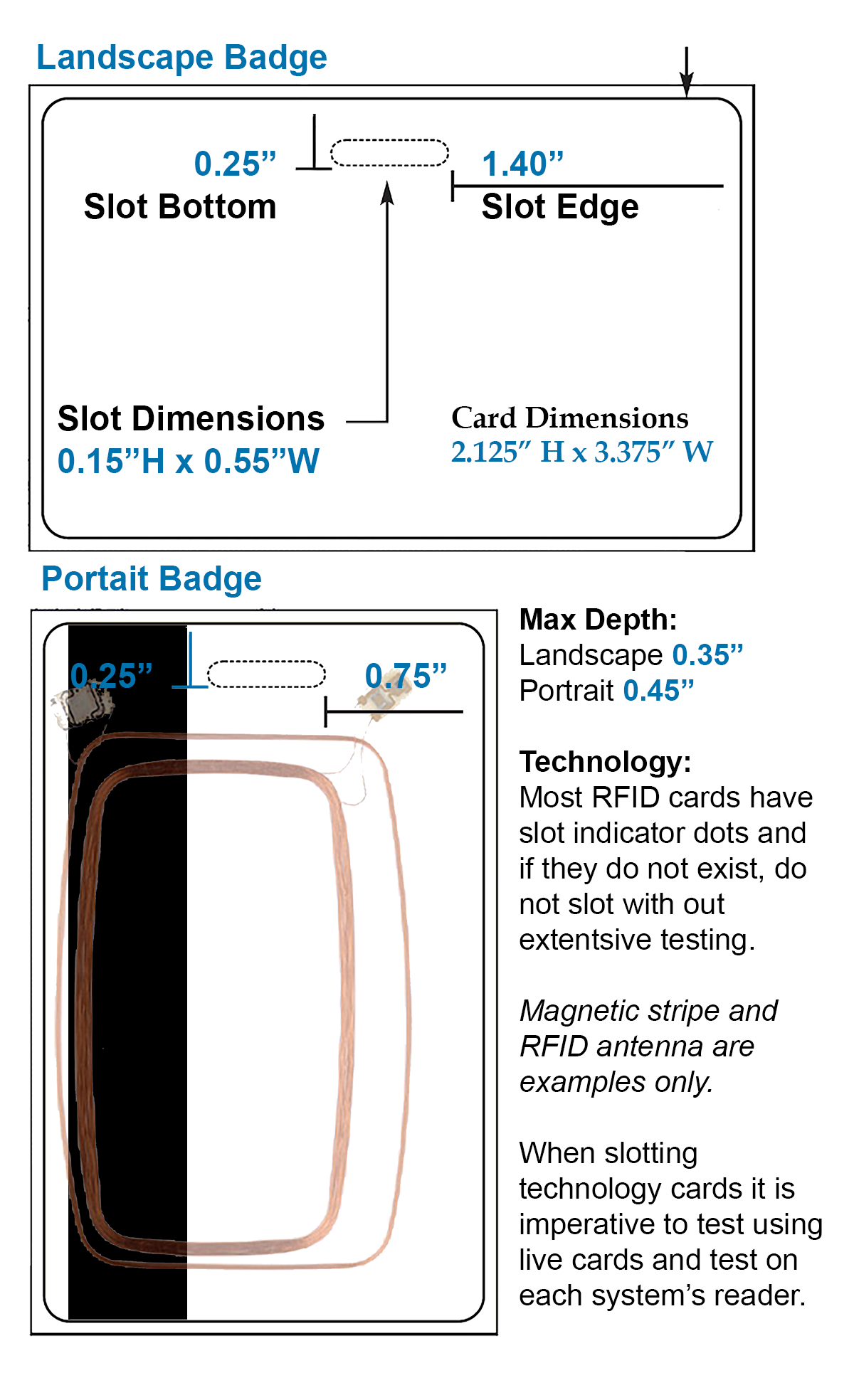 Design Templates and Proofing:
eXpress badging will import your logos and create your badge template for printing based on the template and design setup you selected and signed off on. This is an industry best practice. If you have designed your badge already to the specifications required, then turn off all variable data elements, photos, slotting, outlines, etc so only the design template is saved as specified in our artwork section above. eXpress badging will create the merge fields and photos within our badge template using the stated fonts above.
Photo ID Badge Template Background Graphic with No Variable Data or Photo Included
Proofs
eXpress badging will submit formal proofs for customer digital signature within two to three business days from receipt of order, associated artwork, and graphics files; if applicable. The proof process is not a design concept stage allowing customers multiple changes/proofs to determine how the final badge should look. If a customer is unsure how the ID badge should look, they need to work with their ID Specialist to provide a pre-proof mockup as a starting point. We can email hyperlinks for quick review. Once the proof is approved, or a step in approval, eXpress badging can mail Production Proofs samples that are used for final review. Production Proofs are mailed USPS First Class; unless otherwise specified and expedited costs are paid for by the customer. Proof fees are charged to the customer for new badge designs and previously approved designs that require edits.
Before a proof is approved, have more than two authorized and qualified individuals review. Once the proof is approved by an authorized customer representative, eXpress badging requires it to be digitally signed via a provided link or printed/signed/scanned version that is emailed back to eXpress badging. The customer signed and approved proof transfers the responsibility of proof accuracy to the customer's signer. Any reprints required after proof approval due to noted errors or edits will be at the customer's expense. No exceptions!
Customer at-fault issues:
The customer approves the design proof that contains an error(s)
The customer provided the wrong ID numbers for eXpress badging to encode/clone from
The customer provided the wrong photo assigned to an ID number
The customer approves non-approved Portal records (data and/or photos) for printing
The customer provides an incorrect badge type (different locations have different systems and therefore different badge types)
The customer makes a design change after the approval of a proof
A sample proof is provided for reference below.
Basic Template Design customers, your proof is the selected design template on our website. You'll be provided a preview of a virtual ID. Basic Templates are designed for those who do not require design control and no to minor edits.
Basic Template Edits If you require any edits to the template they must be submitted at the time of your file drop submission; otherwise, a design change fee will be charged ($25.00). Your only edits are font type, font and photo border color, and font size: be specific. Take the time now and determine how you want the design to look. Copy the template (Print Screen), paste and edit in MS Paint, and type out all edits. Save in a JPG format and provide the file with your file drop. We do not provide formal proofing for approval other than a URL preview. More than one edit with preview will require a $25.00 design change fee per occurrence. If you have specific design requirements, you'll need to upgrade to our Standard Design service ($40.00 adl.) where we provide more design options and edits along with a digital proof for sign-off.
Standard Template and Custom Design badge customers, we print an actual ID badge and provide a scanned image proof for approval and sign-off. Customer-provided badge designs are used as the guide for proofing and is what eXpress badging uses to produce the final ID badge template. This is an actual representation of your finished badge. Printed samples can be mailed upon request. Your approved proof approval must be received before ID badges can be printed.
Sample Badge Templates
Click on an image below to see the virtual badge.
FILE to PRINT:
For customers wishing to provide a completed graphic design for each of their ID badges, we offer our FILE to PRINT service. Please be advised that we make no edits to customer files. Files will be printed exactly as sent.
To avoid receiving a poor quality print, be sure to follow the steps below.
Please be advised that providing finished files to print is not a conventional process to print photo ID badges. We suggest that you use our design merge template process where you provide the badge design background file without the photo and data or use one of our templates, and we import the data and photo merge elements for printing. Then, you only provide a spreadsheet and data or use our Portal to enter upload and preview each badge prior to submitting for print. This results in a higher print quality and is easier to manage.
FILE PROPERTIES
JPG and PNG files only: convert all PDF, PSD, AI and other files
600 DPI using RGB configuration
If you want the files printed in a sort order, use a naming convention that is sortable; last_first.jpg or .png

Use our ID Badge File Upload Center to provide individual JPG/PNG images or zip file
BADGE DIMENSIONS
Landscape badge must be 3.475" x 2.225"
Portrait badge size must be 2.225" x 3.475"
Print Zone is L = 3.375" x 2.125" or P = 2.125" x 3.375"
No Print Zone is .05″ of the surrounding border
BADGE DESIGN
Visit our Template Library for starting designs
Leave room for slots at the top of both sides of the badge
Do not include slot location marks or border edge lines, they will be printed
Save with the design image with square corners if the design bleeds off the edge
Do not use fonts smaller than 6 points, they will not print clearly
Solid backs look great but will show more card printing imperfections
TOO MUCH TIME TO FORMAT FILE TO PRINT?
Send the background file with no data or photos
Provide a spreadsheet of data
Provide group or zip files of photos
Use our Proofing Process to guarantee your badge design is perfect
We will merge-print your badge print job the correct way, with less work on your side
Production Print Preview (P3):
For larger projects that have multiple badge designs or want to preview the entire print job before printing, eXpress badging offers a Production Print Preview we call a P3. This is a recommended step when printing on RFID stock to ensure it is printed correctly the first time. We print the entire order to PDF and securely provide the file as a Print Job Proof, and we require signoff just as we do with the badge design proof. Once approved, eXpress badging prints the job as provided within the P3.
The P3 addresses a few concerns:
Are the photos assigned to the correct record, or are photos missing?
Are the photos cropped to the correct aspect ratios and standards?
Are the photos cropped to standard correctly?
Is the record data correct and prints the correct badge template?
Is the sort order correct?
The P3 is not a design-proof tool and is used only for data/photo verification only.
If badge design corrections are required in the P3 stage, and proofing was approved; the approved proofs are voided, and the project is paused until the badge design corrections are re-proofed and approved.
ID Badge Technology Testing:
In addition to the design and proof process, eXpress badging requires technology testing and sign-off for any cards used in a badge reader system. This ensures that the ID badges eXpress badging produces will work in all of your systems.
Sample test cards are provided based on customer-provided specifications. Test cards must be enrolled in each system used; then transactions are generated for each test card provided. We recommend printing a transaction report in each badge reader system to document successful ID badge enrollment and transaction generation (badge works in the reader). Does the badge open the door, record a time punch, record a tracking transaction, and then record the transaction in the system using the unique badge ID number and person assigned to it?
Testing Guidelines: Testing starts by defining all badge reader systems being used. Provide the manufacturer's name, the supporting integrator/dealer information, and the point of contact for each system used. Take a photo of your RFID card box label and/or back of the card and email it to your sales representative.
Time and Attendance
Access Control
Tracking Systems
Point of Sale
Once you know all the systems in use, you need to document the reader type and specifications of each technology used: RFID Proximity (125kHz), RFID Contactless (13.56 MHz), barcodes, and magnetic stripes.
DURABadge Warranty:
eXpress badging's "Standard" PVC badge does NOT have a durability warranty. Using eXpress badging's "Standard" format badge (non-laminated), image fading caused by extended sun exposure will occur within short periods of time (can be weeks or months) and is not warrantied from fading. Badge cracks in the slotted area or breaking of the entire card will happen as a "Standard" format badge ages and become more brittle. Barcodes will wear off much quicker (can be weeks or months) using the "Standard" format badge and are not warrantied. Laminated badges produced by customers' on-premise badge system are not covered under this warranty; only badges produced by eXpress badging.
eXpress badging's produced DURAbadge™ formatted badges with a 1MIL over-laminate on each side will last much longer (can be several years or longer) and are warranted for two years. A limited two-year durability warranty will be provided by eXpress badging for DURAbadge™ ID badges using composite PVC media and over-laminate and starts from the date we process/ship your order. The DURAbadge™ warranty pertains specifically to badge cracks, slot punch area breaking, badge breaks, or the images on any laminated side from abrasion wear, and tear determined to be a result of the normal use of the card.
eXpress badging's Warranty Procedure:
The badge must have been produced by eXpress badging within the last 24 months and meets the above-stated terms.
Take the photo of both the front and back of the badge and email it to eXpress badging's production department.
The customer cannot destroy the badge until eXpress badging replies with warranty approval acknowledgment and may request that the defective badges be returned at eXpress badging's expense.
If the customer's badge technology stops working, eXpress badging may provide a self-addressed/stamped return envelope for return and evaluation or ask that the defective cards be destroyed.
Do you have questions about our design process or any of the above guidelines? Please contact our ID Specialists for assistance!