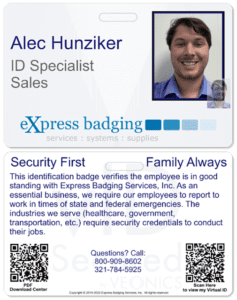 Best Ways to Contact Me
Thanks for visiting my contact page.
As a Photo ID Specialist, I help customers who need badges printed for them, ranging from 1-250 badges that don't require card-based technologies.  Also, you can call on me to help with any of the following:
Share best practices and any issues regarding your photo ID badge design.
Review the Eight Steps of Discovery Journey from start to finish.
Address how your photo ID will be displayed and worn within your environment
Purchasing badge accessories
More About Alec
I am a university of Florida graduate, and I've been lucky enough to be a member of the eXpress badging family since June 2022.
I specialize in Photo ID badge orders between 1-250 and projects requiring quick turnaround time, which do not require card-based technologies.
A bit more about me is that I grew up in the suburbs outside of Philadelphia, moved to Florida for school, and fell in love with the weather. My hobbies include cooking, traveling, surfing, playing, ultimate frisbee and watching sports. Go Birds!
Some of my personality traits include the following:
Being a good listener
Being patient
Focused
We offer many services here at eXpress badging, but the service we are most proud of is our customer service. Our goal is to help you correctly meet and exceed your badging project needs the first time.
Here is a little run down on our process and next steps if you decide to go with us. This is just a basic summary of our approach, and I will let you know if any of these processes change because of your specific needs.
The first step would be for you to sign and send me back the proposal I sent you.
Then the following step is for you to provide your artwork in a high-resolution (600 DPI) JPG or PNG file with whichever template you choose(unless you already have a design).
We will then start the design process, which usually takes 1-3 business days; during this process, we will send you links to view a virtual copy of your badge design, which you will be able to ask us to change your badge design around till you approve a final draft.
After we get your badge designed precisely how you want it, we will send you a proof form for you to sign.
Once the formal proof form is signed, any changes to the badge will accrue a design change fee.